The Wedding Cake has been one of the traditional hallmarks of weddings for quite some time. Over the past decade however this tradition has taken a new form with brides opting for alternative wedding deserts, or none at all.
What's your style?
When thinking about your wedding cake style reflect on your personal style, wedding location, season, favourite color or flower, or your wedding dress as inspiration for your cake style. Also have a look through your bridal magazines and check out the many resources available online to find different styles. I looked to my dress for inspiration and decided that I wanted my cake to reflect my dress. Unfortunately, our confectioner said he couldn't do it because we were having an outdoor wedding in July and the cake wouldn't hold up in the heat. So, when picking your style be somewhat flexible as external circumstances may force you to deviate slightly from your style/plans.
Tasting time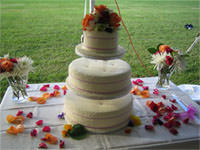 Before you commit to a baker, sample some cakes and fillings to make sure your confection will taste as good as it looks. Most bakers will have samples of cake or icing to test when you are shopping around. It's also really important to discuss your icing options with your baker. Be sure to choose the right icing for your wedding location. For example, you probably shouldn't go with a butter-cream or whipped cream icings if you're having an outdoor wedding. The heat causes the icing to melt. Rolled fondant however is bullet-proof in the heat (and this is what we ended up with – not as tasty as the butter-cream icing but it still looks beautiful)!
Ordering time
You should plan to order your wedding cake around six months in advance. If you're marrying during peak wedding season (June–October) you may have to order it even sooner, especially if you want a big-name confectioner and you live in a big city. It's always a good idea to interview the baker in person, if possible, and ask to see samples of his or her work before you sign a contract. If you love a baker's style, but you don't know anyone who's worked with him or her, ask for references.
Money saving tips:
If your budget is tight already, there are a few things to consider when it comes to your wedding cake:
Do you really want one? If so, then check to see whether your caterer can make a cake. Stick to a simple design, unless the caterer is also an experienced confectioner. If you already have a favourite bakery (for birthday cakes, etc) they may be able to create something special for you without blowing your budget
If you don't really want a traditional cake think about cupcakes, or cookies, or other creative alternatives. Some couples opt for having a decadent after dinner desert and skip the cake-cutting ceremony altogether.